Intermediate Level - Cores 3 and 4
Art Curriculum for Middle School students, 12 years and UP! 
In the art instruction videos, students learn how to use the art materials and tools.  
In the art instruction books, students see Master works by artists from around the world and gain an understanding of art history, art appreciation, and the core of  art education: the elements of art.  
Together, the student's art education is complete, making this a very easy program to use! Students work independently.
ART CORE 3: Drawing with Graded Graphite Pencils
Students advance in their understanding of the foundational principles of art while exploring the ideas of Western and Eastern cultures. This Intermediate Level course builds on the drawing skills introduced in the Beginning Level drawing course, Core 1. The elements of art and compositional arrangements studied in art around the world, give your child a broader experience with art concepts. Arranging objects within the picture space and using constructing lines to develop more accurate drawing skills is a focus woven throughout the course. Drawing the human form is addressed as well. 36 lessons and projects included. Take a look inside!
"The videos are professionally made and very well done...videos are all around ten minutes long; enough time to give actionable tips and not so long that you get totally bored watching someone else do art...Drawing and instruction happen in a timely manner. This was a nice feature." - Amy Bradsher, North Carolina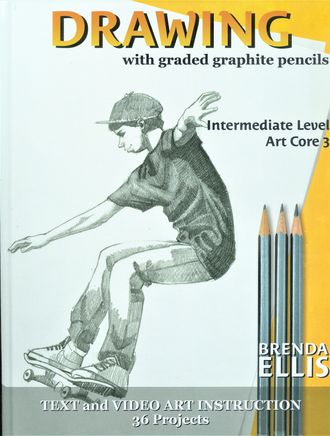 The ability to draw isn't something you're born with, but it's built on a number of techniques and principles that you can learn! Here are just a few of the concepts you'll learn to use in this course:
Learn to use the correct pencil grade to attain light, middle, or dark values that make your drawing stand out!
Learn the best ways to arrange objects within the space of your page, so you draw like the pros. 
Learn how construction lines help you to draw geometric and man-made objects more accurately.  
Discover how 17 shapes help you draw human figures so that you can draw the people around you with accuracy. 
Draw light, shade, cast shadows, and reflected light to make a realistic still life. 

Create drawings that feel like a true reflection of who you really are; as your interests, ideas, and experiences become a part of your art.