Art Supplies: What You Should Know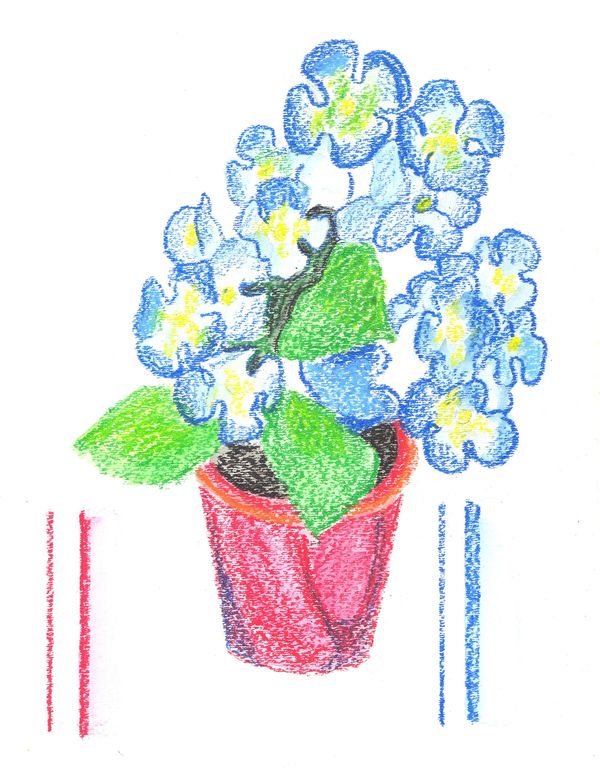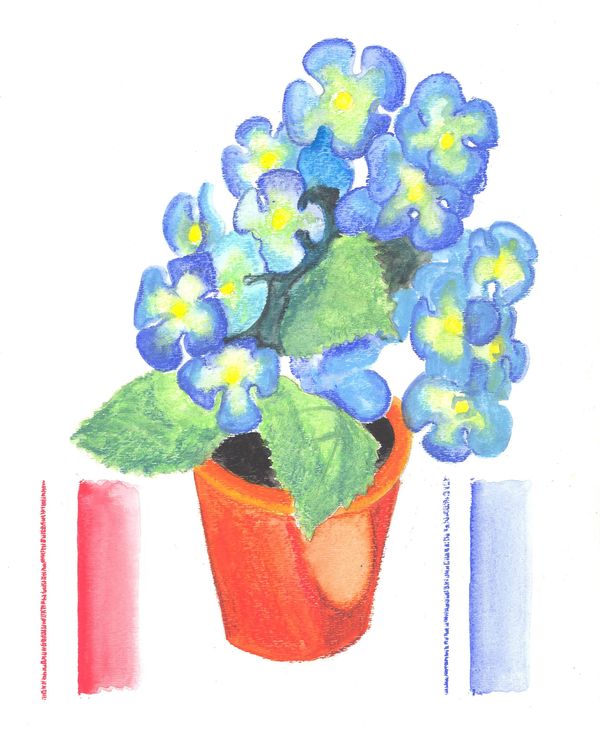 You can provide your child with art supplies that work beautifully in their hands and it makes a BIG difference in the outcome of their picture and their enjoyment in making art. Why do quality art supplies matter? Take a look at a substandard set of watercolor crayons (on the far left) vs. a quality brand (on the right) in these pictures. To make color products cheap, manufacturers use clay, wax, and other fillers, which take up space, but do not deliver color. Though both paintings were handled in the same way, the quality brand with no fillers broke down and blended to act like a true watercolor painting. The cheaper brand had a wax filler and wax resists water, so it did not act like a painting medium, but resisted the water like a wax crayon.
Honestly, there are some pretty low quality art tools out there and because of the low price, they tend to be the brands that large department stores carry. Here's a tip. Art students everywhere are in the same situation as you are and when they get their hands on something that works well, they tell fellow students. So talk about your Prismacolor pencils, your Caran deAche watercolor crayons, and those brands that deliver amazing color. Handing children inferior color sets to make art is like asking them to play music on a flute and then handing them a drinking straw. That tool just isn't going to deliver. At ARTistic Pursuits we mention the brands that deliver strong color and we provide a quality brush that comes to a point, holds its point, and lasts. Kids who are handed flat ended, or wimpy brushes, you know the ones that seem to melt when you get them wet, are not going to be able to paint detailed work. And even very young children love details and hate messy work. Bad materials lead to inferior work and ultimately ends in disappointment in their efforts or disinterest in art itself. With only a few dollars more, you can step up to brands that will really deliver the color and the quality needed to enjoy art.
We've selected the best student-grade art materials on the market today. These products will perform beautifully in the hands of your child! Many customers want to purchase quality items without the doubts, time, and expense of a trip to a retail art supply store. If that is you, consider purchasing an ARTistic Pursuits art supply pack. Another option is to shop at Blick Art Materials using art supply lists that we've created for each book. Go to dickblick.com to "educators" to "Blick U". Select the state of "Colorado" and under that you'll see Artistic Pursuits with a list of art materials. Just click on the book title to find the art supplies needed for a particular book.  We've selected our favorite products for you. You simply decide which purchasing method suits your needs!
Do you have specific questions about art supplies? We are here to help. Just send us an email and we will give our honest opinion, gained from many years of experience in the art supply business. ARTistic Pursuits Inc. does not manufacture any art materials or promote any brand, but we will tell you just what a brand will do. We deliver honest opinions about prices and quality because we want your child to enjoy their art experience. Here are some starting tips:
Stay away from beautiful wooden art boxes sold around the holidays. They are affordable because they are filled with the cheapest art sets on the market. I'm sad about this too, because they do appear to be such lovely gifts.
Don't use copy paper when watercolor painting, for anyone but the two year old. While a cheap option, copy paper won't hold up to the water and your child will make holes in the painting they spent so much time on.
Drawing tools such as pencil sets and charcoal are relatively similar in quality across brands, so you can relax there with nearly any brand.
Color sets of any kind (colored pencils, paints, watercolor crayons, pastels) are simply priced according to the amount of pigment (color) that exists in the product. So a set of colored pencils that sells for $1 will deliver nearly no color, while a set of 12 Prang or Derwent pencils selling for $13- $15 will deliver rich, smooth color.
Don't buy the most expensive professional quality materials because you simply don't have to pay that much to get products that work.
Don't use the cheapest materials because you and your child will be frustrated with the results.
When we do mention brands in our books, it is because these brands are a good middle ground, delivering in quality with a middle price range that is affordable. 
Select ARTistic Pursuits art packs for convenience and retail pricing. Select Blick Art Materials for discounts online. Select your local art supply store for retail pricing.
All art supplies on our lists are AP approved. The AP (Approved Product) Seal identifies art materials that are safe and that are certified in a toxicological evaluation by a medical expert to contain no materials in sufficient quantities to be toxic or injurious to humans, including children, or to cause acute or chronic health problems. For more information see: www.acmiart.org