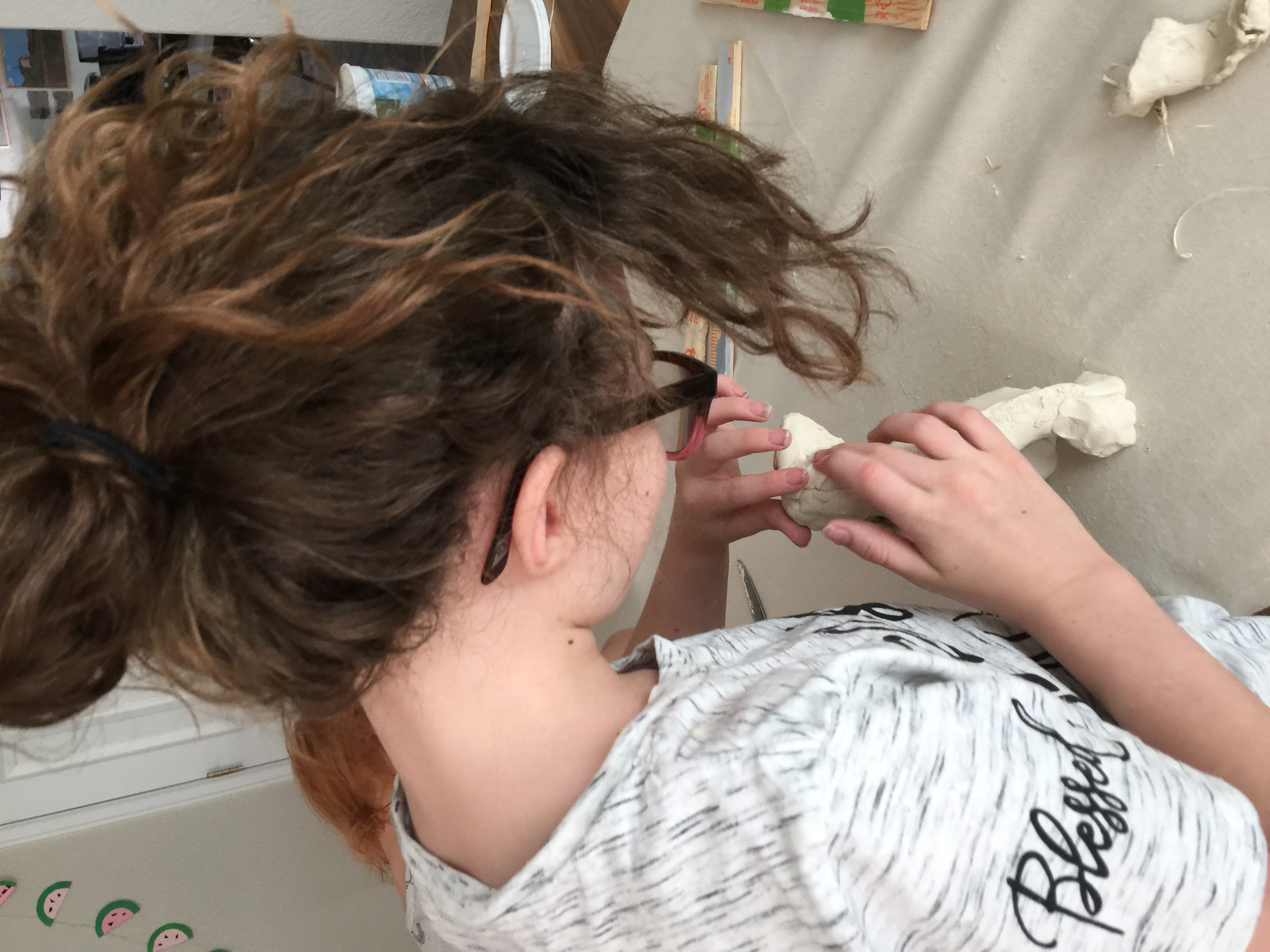 Homeschool art is simply art that is created in the home by those providing school in their homes. We can look to art history and see that in many ways this learning environment is similar to the sources available to the 17th century Dutch masters. Working from the home, these famous artists observed and painted dishes and platters from a left-over meal, a vase of flowers, landscapes of pastures with grazing cattle, or the nearby ships seen in the harbor. They worked from subjects that they saw in the world around them. They worked from observation of objects within and around their homes. 
The home is full of wonderful opportunities to draw and paint the objects and happenings of daily life. The homeschooler has those objects available in the modern homes of today. 
In contrast, a classroom can be void of physical objects from which to observe. If there were a collection of seashells, potted plants, or a creature in the room, these would be wonderful sources to observe and draw or paint. However, this is often not the case and so teachers, for the sake of ease, rely on a line drawing or crafty art projects that they or another adult has constructed. This model becomes the art lesson and guide for the child's work. The results of art projects like these are copy-the-adult constructions by the children. Having no originality and requiring little thought, the children learn little of substance from these types of lessons. 
Robert Watts from the University of Roe, and author of Teaching Art and Design states what an art experience should look like. 
"The perfect art lesson would be one that produced diverse outcomes, not identical ones, so always offer children choices." 
March 12, 2012 https://www.teachprimary.com
Is it possible for beginning art students, especially those who have not had formal art lessons, to observe, identify interesting objects, and make choices in what they will draw or paint? 
Yes! Like the professional artist, the child can use the same process of making an original work of art from direct observation. The important idea for parents to understand it that the outcome will look much different from the professional's output. 
 
Here's what you need to know to teach homeschool art. You'll want to: 
understand the stages of development and expect your child to pass through each of the stages at their own pace
provide a foundation with the elements of art
provide technical instruction through a trusted source such as a good homeschool curriculum
remember to add the inspiration through an art history and art appreciation lesson
What your Child is Observing in Each Stage of Artistic Development
As children grow, they pass through recognizable stages in the art process. In art, as with other endeavors, we can watch, encourage, and provide opportunities to expand growth and development. 
Parents who become aware of how children typically express their ideas within these stages are more able to allow them to happen naturally while offering guidance, rather than dictating a standard that is too advanced for their child's current state of growth. Copying artwork with the expectation that the child's work should resemble the professional's or introducing concepts that your child is not ready for, is like teaching algebra in first grade. These methods of teaching cause many children to stop making art.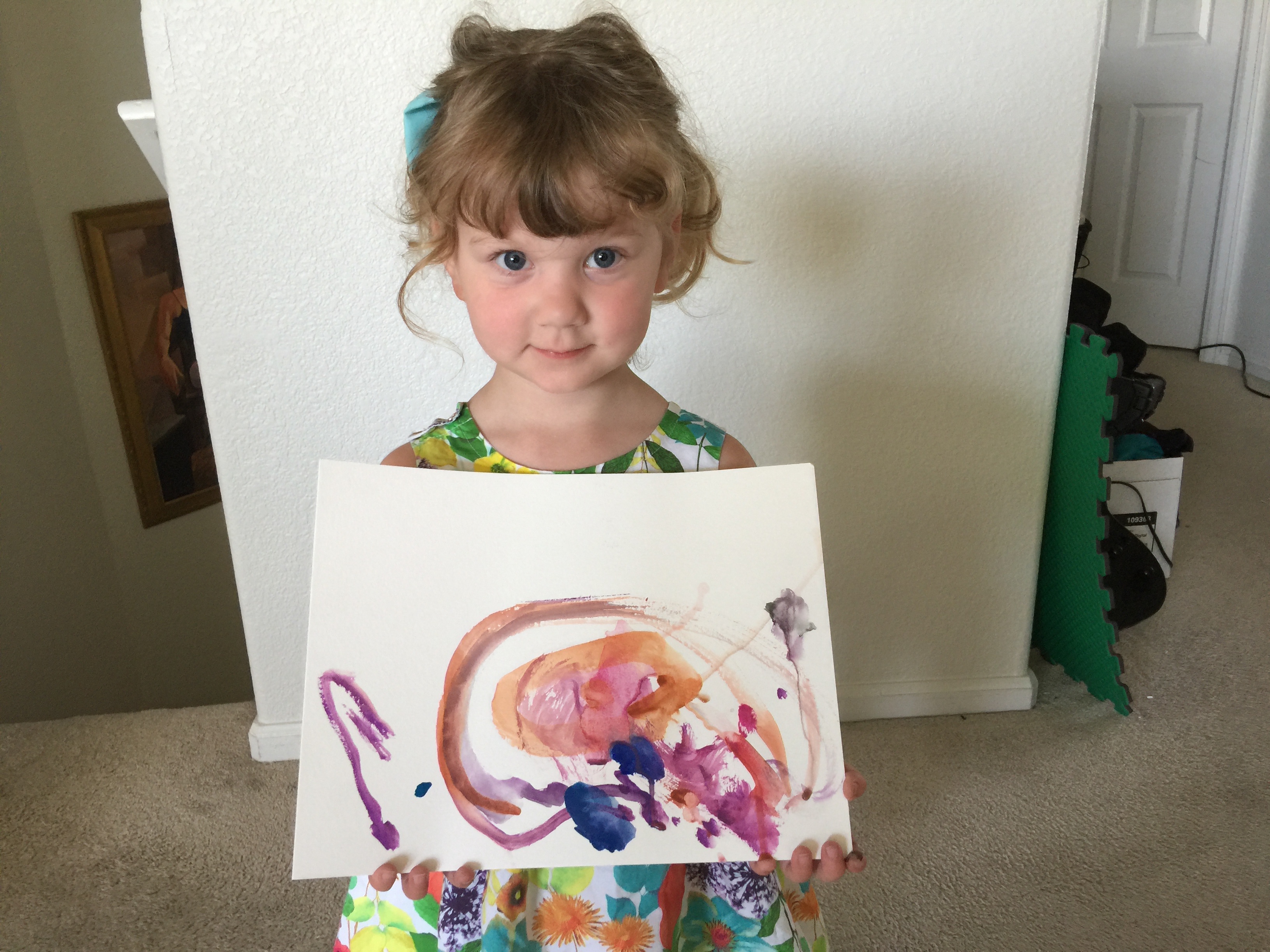 As the young child begins to reach for drawing tools or clay, they naturally begin moving it with their fingers, hand, wrist, and arm. They form lines with drawing tools and ropes with clay as their hand moves over a surface. This begins the manipulation stage of artistic development (approximately ages 2-5). Expect your child to play with materials, then begin to purposefully repeat certain actions to control the line or forms.  Finally, your child will name the objects they create. At this stage you will most certainly not be able to identify the forms as something, so it is always appropriate to invite your child to tell you about it. They will love talking about their pictures.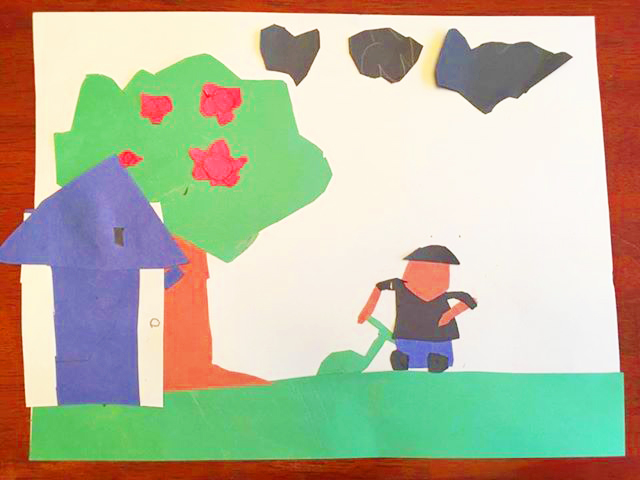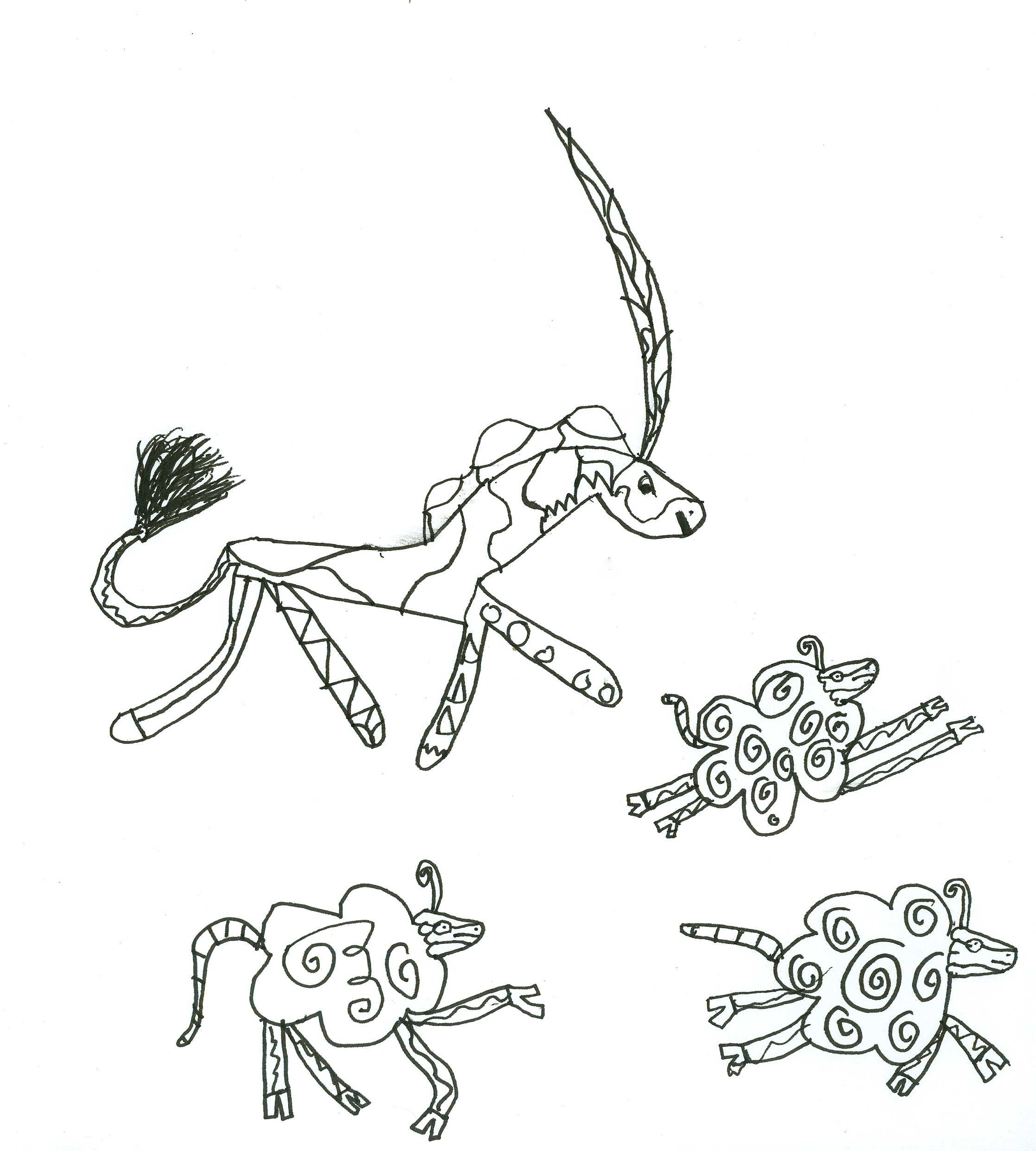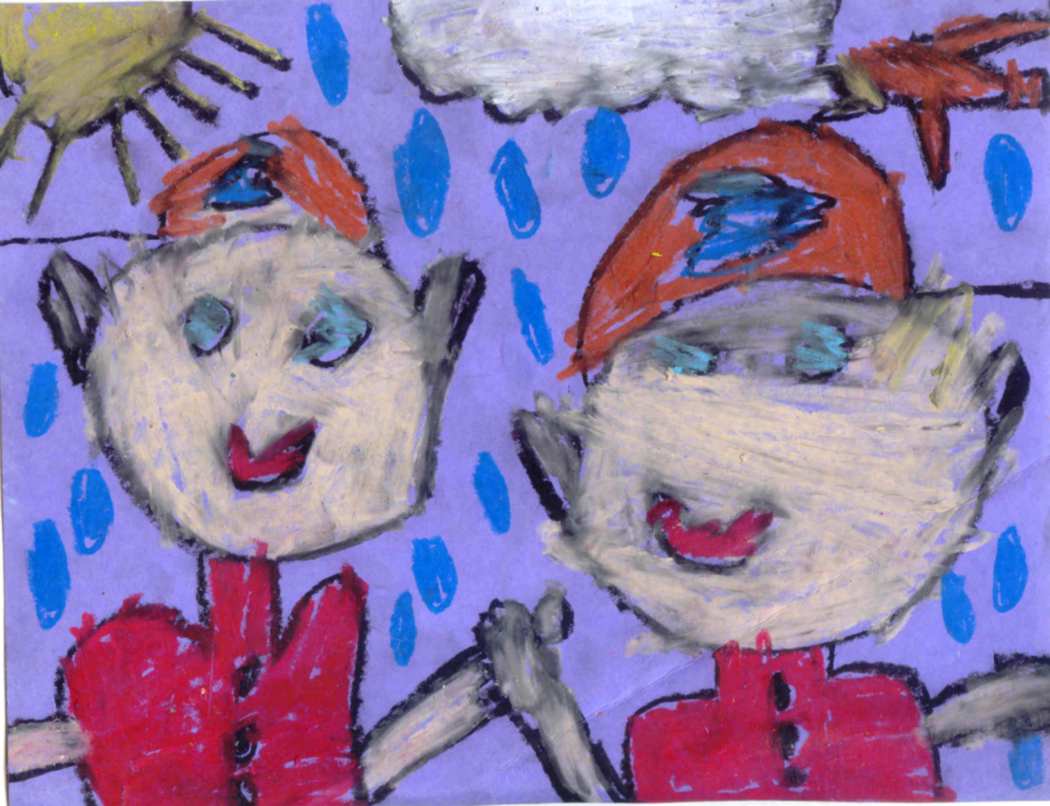 As the child gets more of a grasp of what can be done with the materials they begin to draw symbols for the objects that are important to them (person, house, tree, sun). These symbols are line drawings or in clay, rounded forms put together and shaped to show the most dominant features of an animal. This symbolic stage (approximately Kindergarten to 3rd grade) is marked by noticeable improvement in adding unique details to the picture. Parents delight in the ideas of their children at this stage, as children develop symbols that identify the person, such as a hat they wear or boots dad wears to work.  They also create a line for "ground" and often attach the person's foot to that line. They often reject ideas that do not help them tell the story they want to tell within the picture. Perspective and overlap are rarely needed.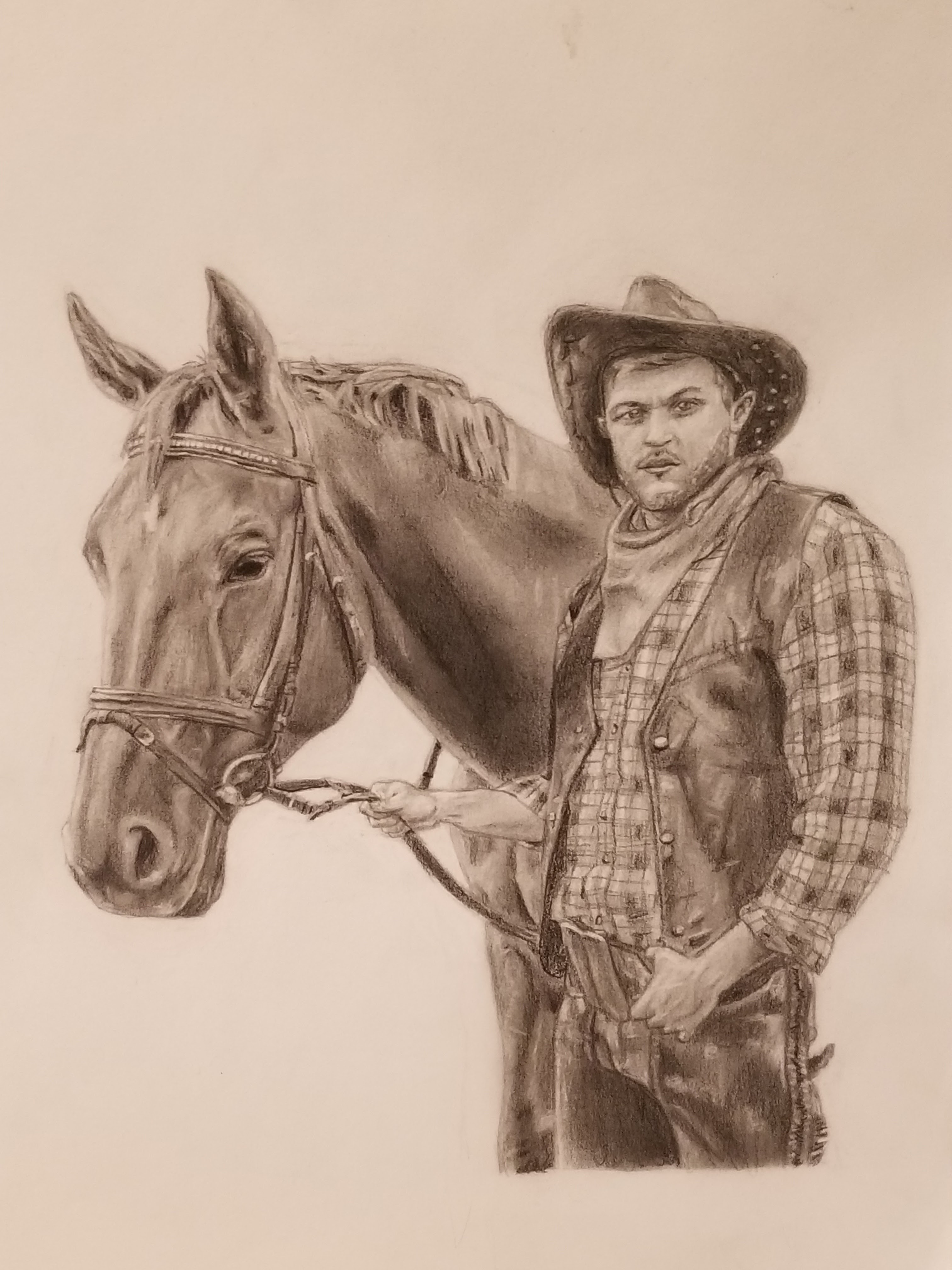 As a child reaches upper elementary and middle school they see the world in a new way. They want the ideas of perspective and overlap. Shading a form to make it look "real" is the knowledge they desire in the realistic stage of their development (approximately 4th grade through high school). 
Provide a Foundation
Young children in the manipulation stage benefit from direct connections with nature. Intentional wandering, my term for a walk with purpose, is where you and your child observe trees or other visual objects of different sizes and shapes. Intentional wandering is a great way to help children become more aware of their surroundings and to put those subjects in their pictures. Lessons that give them a glimpse into the artworks made by famous artists help them to see a purpose for their art. Exploration and observation are key elements in helping them reach the next stage. 
As your child enters the symbolic stage, they will enjoy the stories of the artists. They should be introduced to the elements of line, color and texture, which are key to the way they work and understand their world. They can begin to explore a wide variety of art media including printmaking, collage, paper forms, paint in a variety of media, and drawing with varied media like charcoal and pastels. We broaden their perspectives of what art can be about by introducing landscapes, portraits, still life, and animals. As we teach the basic vocabulary of the subject of art, children have better understanding of its scope and purpose. 
Students in the realistic stage of development need a foundation in the elements of art that is not too simplified. They want to know how real artists apply the ideas of value and form which involve shading and other specific techniques. They want to know about the principles of design and how to use perspective and overlap to show depth within their pictures. Free homeschool lesson plans rarely go into enough depth for this age. Unit studies provide only snippits of these ideas. A complete art curriculum such as Artistic Pursuits can benefit children through its organized structure of the elements of art. Children can explore one element such as value in four unique lessons within a single unit. Working once or twice per week, a student can cover these important aspects of art education in a school year. Book plus dvd retail price is $59. Online option is $57. 
Provide Technical Instruction 
I once had a teen tell me that she used watercolors like acrylics (using a thick application) and acrylics like watercolors (thinning to make washes). She will be gravely disappointed in 6 months when both types of painting media flake off of the paper and canvas. It is vital that students know how to use the art supplies. 
Without instruction, children will treat art materials like they treat toys. Once they dabble with each art material, and materials are scattered about the room, the chaos will detour any educational value that the materials could have provided. Technical skills take time to learn. There's a lot to know about brushes, what techniques and terms are used with each paint media, or how to use a 9-step value scale. The best way to learn the technical side of art is through demonstration by a knowlegable teacher or with video. Free online tips are nice, but an art curriculum that takes into consideration the depth and scope of the media and introduces it at an age appropriate length (shorter videos for younger audiences), will really help students make that knowledge their own. Kids should always put into practice the skill that was just introduced. Every art lesson should end with your child making a work of art! 
Provide the Inspiration! 
An art program should not consist of line drawing only or technical instruction only. Students who are introduced to the paintings of famous artists broaden their ideas of what art is and where it is found. They do not make a practice of copying the artist's work because that artist was painting in a world that is very unfamiliar to your child. 
We view art of the past masters to present a new idea that children can apply to their contemporary world. After looking at a landscape by the American landscape painters of the 18th century, a young artist will be inspired to see what types of subjects are found outdoors in his area. The icons of the Byzantine period can spark your child's imagination as she contemplates a scene that demonstrates a moral word like "kindness" or "loyalty". The fine arts offers a wealth of history that provides knowledge of cultures, world history, and opens up discussion about the ideas and beliefs of people who walked in this world ahead of us and left their mark on it through the creation of art. Is homeschool art instruction right for your child? My vote is "YES" and you can do it!
It was concluded nearly a century ago that:
"Art has become the province of all children, not just those with the dexterity of hand and eye required to draw cubes in perspective or to paint flowers in accurate detail. Today's children are encouraged to explore freely in many art media, using a variety of subjects for expression. In their work they thus approximate the process and disipline of the mature artist, and they learn...a great deal about the meaning of art." W.B.S. Children and Their Art by Dr. Charles Gaitskell, 1958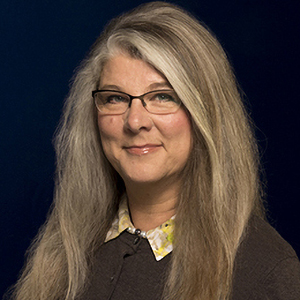 This article was written by Brenda Ellis (Abbey) August 26, 2023. Brenda Ellis, author and illustrator, has over thirty years of experience in all aspects of teaching K-12 art. She is 1980 alumni of the Skowhegan School of Painting and Sculpture in Skowhegan, Maine and an honors graduate of the Kansas City Art Institute in KC, Missouri. Brenda and her husband homeschooled their three children, now adults, while developing the award-winning ARTistic Pursuits art program, founded in 1999. Brenda has provided art education for children in a variety of venues, including private and public schools, Denver Public Libraries, and Schoolhouse Teachers, the curriculum site of TOS magazine. In 2019 she designed five spaces for the children's area at a new build church in Reunion, Colorado, creating six large wall murals and eighteen original paintings. Brenda is currently expanding ARTistic Pursuits by developing new projects and lessons in text and video for all ages.